Richter Enterprises developed a stacking system to eliminate manual labour at the take off on Float Lines. Small Sized Glass coming off the line at cycle times of up to 2 seconds per lite are being stacked into packs and then the packs are placed onto shipping racks. This system allows for multiple rows and tiers to be built to fill the racks completely.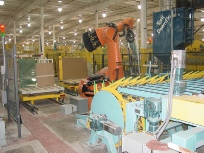 Our manipulators have capacity of up to 500 lbs and are typically implemented at the loading or take off side of laminating lines, tempering facilities or Cutting Lines. Other applications include heat resistant glass, inspection areas or shipping. We supply the crane ways, jibs or mono rails for the suspension of the systems.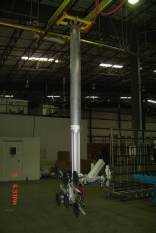 This project included the task of stacking glass of sizes 144" by 108" automatically and leave the operator the option to pick up from the bottom or top and therefore have the tin or air side oriented to the outside of the shipping rack. Richter used an industrial robot combing through the conveyor form underneath for tin-side-out.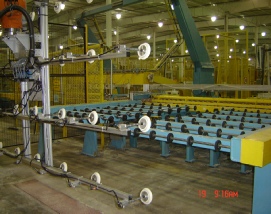 Richter's Manipulators at the end of vertical fabrication equipment allow for pneumatically powered rotation of the glass and the product can be suspended before being placed on the rack or cart for inspection or cleaning. Our equipment does not require running electric power to the manipulator making it a safer and more reliable tool.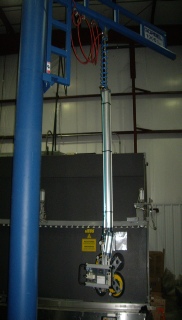 Richter's Powder Applicators are used in different facilities, most commonly before stacking of coated glass and tempered glass. The machines are custom equipped to the needs of the individual application and desired grade of automation. All start / stop automatically at the presents of glass and have a warning system to let the operators know when refilling of the tank is required.